Events at St Peter's
78 RPM Big Band at St Peter's, Empingham at 7.30pm on 18/03/2018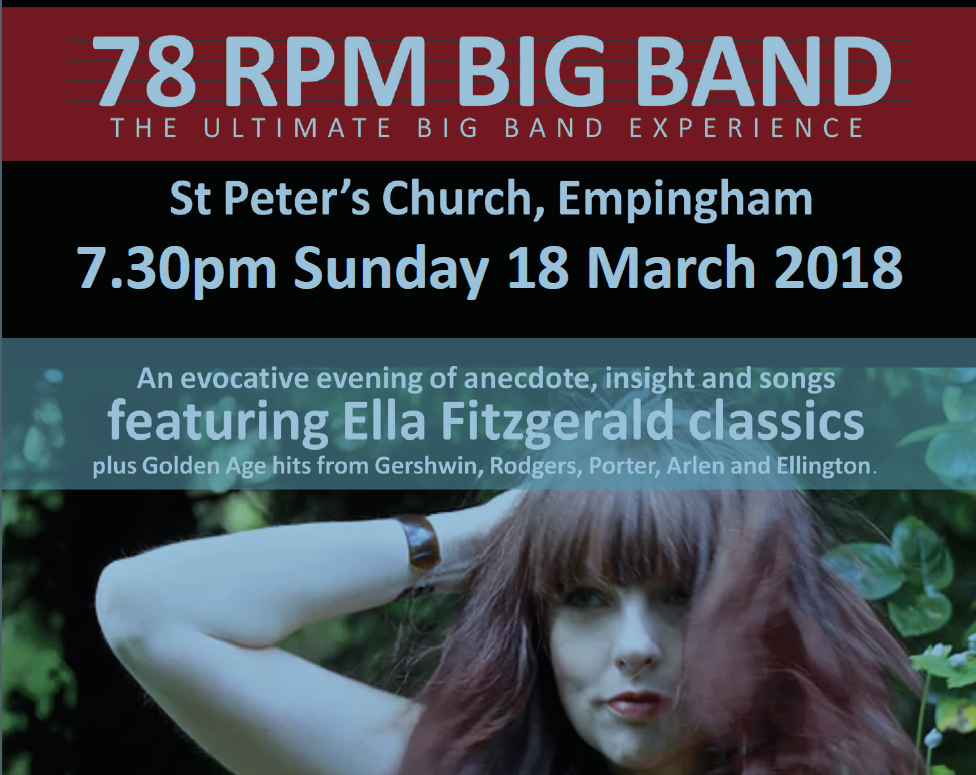 Don't miss this rare treat to hear the 78 RPM Big Band with Joanna Eden performing songs from the different stages of the career of Ella Fitzgerald, who was often referred to as the First Lady of Song. Selections will range from the early work that brought Ella to fame in the 1940s with the Chick Webb Orchestra, to later classics such as Cole Porter's Every Time We Say Goodbye, and George Gershwin's Someone to Watch Over Me. With her entertaining style and deep affection for the music, Joanna will front the fabulous Cambridge-based 78 RPM Big Band, and together they will delve into the rich legacy of Ella's unrivalled output.
This will be the 3rd time 78 RPM has come to Empingham, and they have always played been supported by a good attendance of villagers and local enthusiasts.
Contact: Contact Nick or John for tickets which are now available: £11 each in advance with cash or cheque (to "Empingham PCC") and £12 each at the door. Make your bookings in good time to avoid disappointment.
---
An evening of Antiques and Anecdotes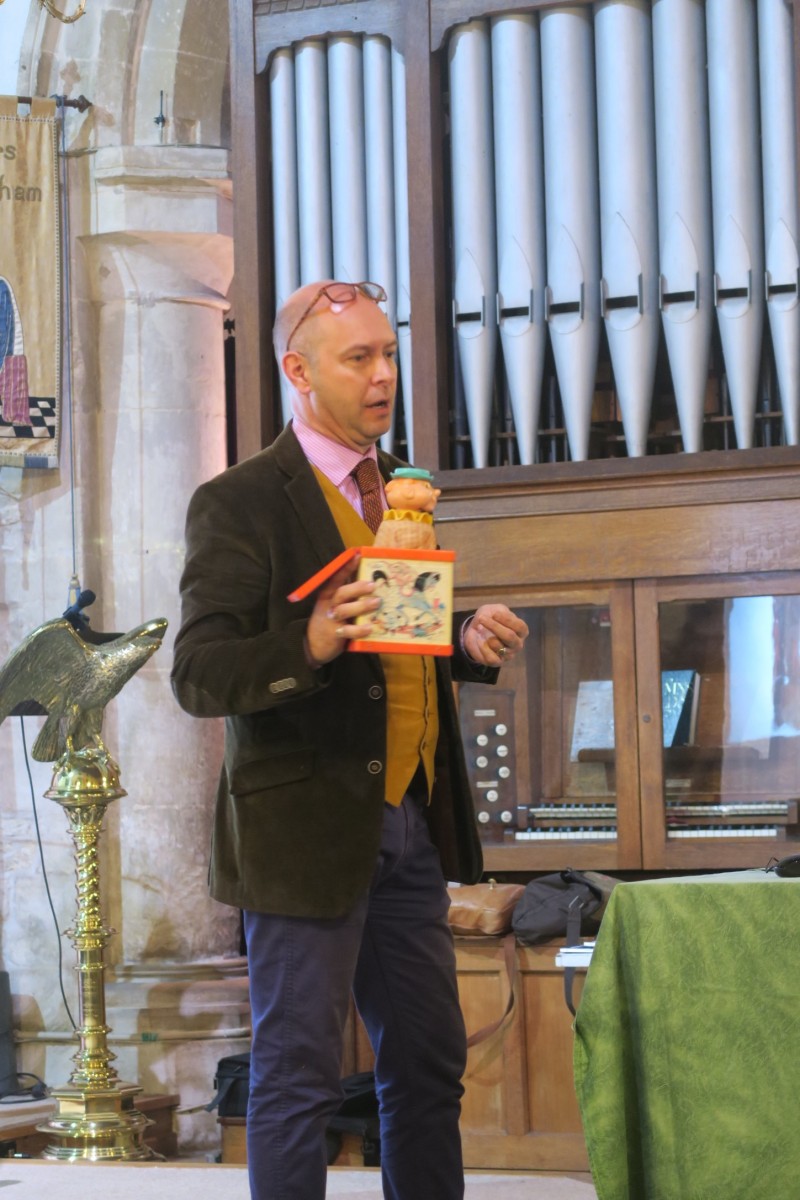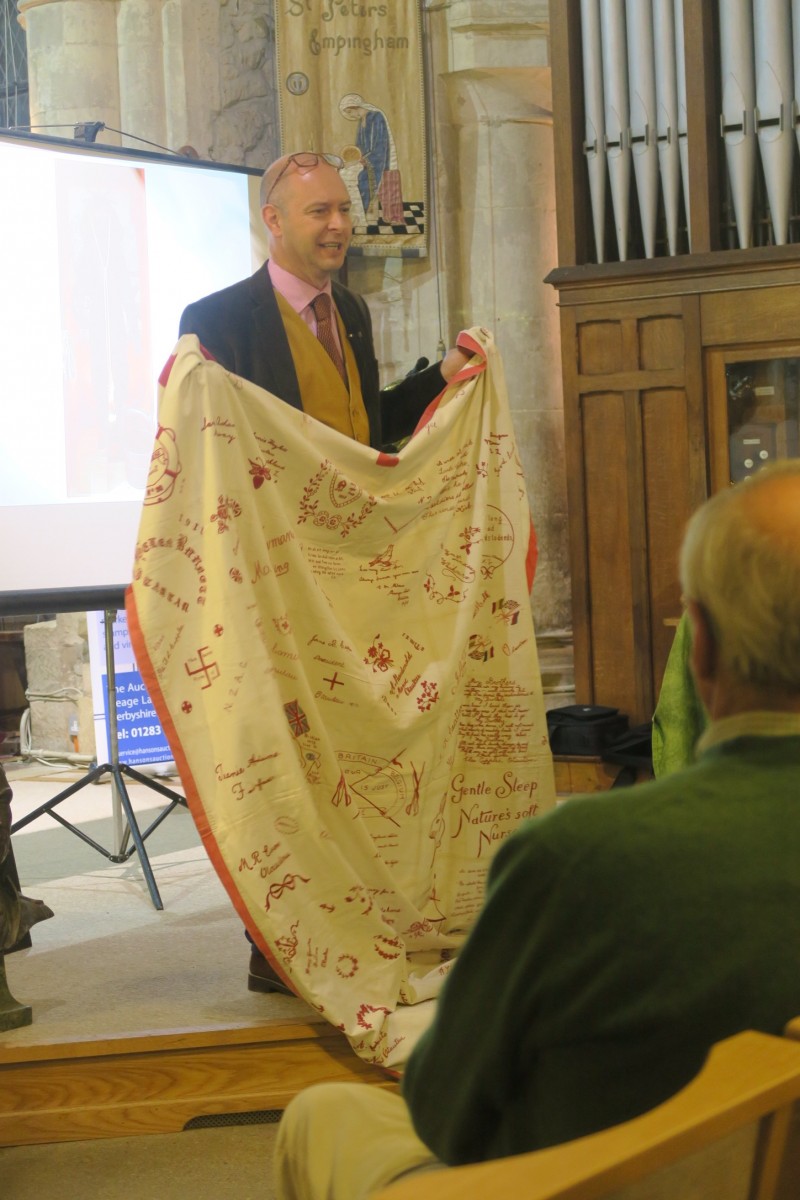 An appreciative audience were enthralled with an entertaining evening given by Marc Allum, antiques expert from the BBC Antiques Roadshow. His experiences during his many years formed the basis of his talk which took place at St Peter's Church on Tuesday, 3rd October 2017.
Members of the audience were invited to share their treasured antiques and curios for Marc to discuss and value.
---
St Peter's Singers at Empingham: 7pm Sunday, 26th March 2017
Come and enjoy a wonderful programme of music for the seasons of Lent and Spring. Listen to Fauré's delicate and tuneful Messe Basse for upper voices, Durufle's beautiful motets, and settings of Lenten texts by Kenneth Leighton and William Walton.
St Peter's Singers will give the first performance of "Come Spring!" by the English composer Charles Paterson, who is a member of the choir. The programme will include organ music by French and English composers, and round off with some light hearted arrangements.
Contact: Contact Nick or John for tickets, which are now available. In advance: £10 each with cheque or cash. Cheques please to "Empingham PCC" only [no variations accepted by the bank]. At the door: £12 each. All profits to St Peter's Empingham Funds.
Bring your friends and welcome in Spring! You will not be disappointed!
---
Concert: 'The Fenland Consort' on Sunday, 30th October 2016
The concert is with The Fenland Consort which is a group of Lincolnshire based musicians, many of whom have been playing with local orchestras in Lincolnshire and the Stamford area for more than 10 years. Taking as its motto 'Local Musicians in Local Churches', the Consort was formed at the end of 2007 and began by giving regular concerts in which baroque music by Telemann, Bach, Handel and Purcell featured. Now the repertoire has been extended by popular request to include classic, modern and light music.
I hope you will be able to come and enjoy some more 'Music on a Sunday Evening at St Peter's'.
Contact Nick or John for tickets, which are now available: £8 each in advance with cash or cheque (made out to 'Empingham P C C'). At the door they will be £9 each.
---
Kaleidoscope, a festival of colour
It was Dorothy Sharman's inspiration to bring together a display of quilts, embroidery and flowers in Empingham church for a weekend. What a riot of colour it made! It was a big team effort and we are grateful to the leaders: Maureen Weldon and Lesley Danbury on quilts, Marianne Young and Sarah Donelly on embroidery and Camilla Saunders and Sally Lambert on flowers. Also on display were craft items made by prisoners brought by Caroline Meyrick working in the Finecell organisation.
From the Friday preview evening and the opening by Elizabeth Mills to the close at the end of Sunday afternoon there were plenty of enthralled visitors. We also enjoyed some musical entertainment by Rachael Franklin and her pupils on Saturday, and Harry Robinson on Sunday.
The proceeds will contribute to the maintenance of this beautiful church. Many thanks to the visitors and all who helped to set it up.
---