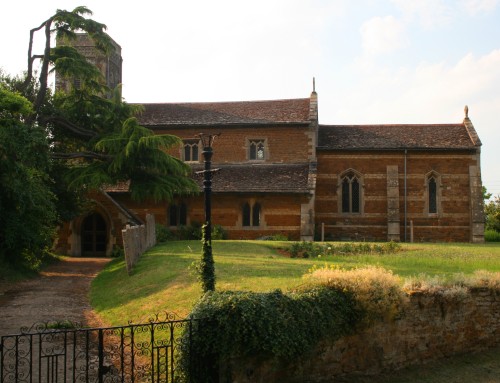 The village of Ridlington sits two miles north-west from Uppingham and is a pretty village of stone cottages and narrow lanes. St Mary Magdalene & St Andrew church is located in the centre of the village.
In 1086 it is recorded in the Domesday Book as consisting of seven 'berewicks' or hamlets. These were probably Ayston, Belton-in-Rutland, Leighfield, Preston, Uppingham, Wardley and Wing:
"In Redlinctune Churchsoke with its seven
Berewicks Queen Editha had four carucutes
of land rateable to gelt; the land is sixteen
carucutes. The King has there four carucutes
in demesne, and one hundred and seventy
villeins and twenty six bordars who have thirty
carucutes; also two sokemen with two carucutes.
There are two priests and three churches, and two
mill-sites and forty acres of meadow.
The wood, containing pasturage in places, is two
miles long and eight furlongs broad. The annual
value in King Edward's time was £40. The whole manor
with the seven Berewicks is three miles and seven
furlongs in length, and two miles and two furlongs
in breadth. Albert the Clerk (who held also, under the
King, the churches of Oakham and Hambleton) has one
bovate of the above mentioned land, and has a mill
there worth 16d yearly."
The village's Parish Council provides a wealth of information of what's going on in Ridlington.